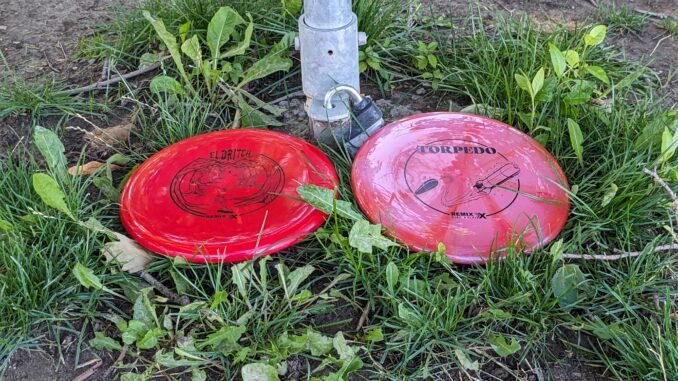 Welcome back, disc golf fanatics!
Today, we're diving into the wild and wonderful world of Remix discs with a review that's sure to blow your mind and improve your game. Prepare to meet the Eldritch and Torpedo, two mythical beasts of the disc golf realm that promise to take your throws to otherworldly heights. We'll be dissecting their design, exploring their flight patterns, and delving into the secrets behind their incredible performance. So, grab your lucky socks, dust off your favorite cosmic-themed playlist, and let's embark on this extraordinary disc golf journey together. Get ready to be amazed, thrilled, and maybe even a little bit confused – because when it comes to Remix discs, nothing is quite what it seems!
First off.
Remix Disc Golf, an Amazon brand by MVP Disc Sports, offers an exceptional opportunity for disc golf enthusiasts to score high-quality discs at unbeatable prices. Due to the unforeseen circumstances of the pandemic, MVP Disc Sports found themselves with an excess stock of these remarkable discs. Rather than letting them go to waste, they are now offering them to the disc golf community at incredibly discounted rates. This overstock situation allows you to reap the benefits of their manufacturing surplus, as you can now acquire top-notch disc golf plastic at a fraction of the original cost. With their ultra-quality construction and remarkable playability, Remix Disc Golf discs might just be the best deal available in the world of disc golf.
Having recently tried out the Torpedo and Eldritch disc molds from Remix Disc Golf, I must say I am thoroughly impressed. These discs not only feel great in the hand but also deliver exceptional performance on the course. The Torpedo exhibits a comfortable grip that enhances control and accuracy, allowing for precise throws and consistent flight paths. On the other hand, the Eldritch showcases a remarkable combination of glide and stability, making it a versatile choice for various disc golf shots. Whether it's long-range drives or finesse approaches, both discs exceeded my expectations in terms of their feel and flight characteristics. Remix Disc Golf has undoubtedly created two outstanding molds that enhance the overall disc golf experience.
Remix Disc Golf Eldritch
The Eldritch disc mold from Remix Disc Golf is the ultimate neutral putter, making it an exceptional choice for both putting and straight flying approaches. With a speed rating of 3, a glide rating of 3, a turn rating of 0, and a fade rating of 1, this disc delivers consistent and reliable flight paths on the course.
Designed with premium MVP plastic, the Eldritch boasts enhanced durability and comes in vibrant and eye-catching colors. The sport plastic used strikes the perfect balance between grip, performance, and durability, making it an ideal choice for all discs when longevity is crucial. Whether you're a new player or a skilled expert, the Eldritch Putter is tailored to suit players of all levels. Additionally, it is PDGA approved, ensuring it meets all the requirements for professional disc golf play. Elevate your game with the neutral, versatile, and high-performing Eldritch disc mold from Remix Disc Golf.
Remix Torpedo
The Remix Torpedo is an impressive neutral midrange disc that truly shines when it comes to accurate placement shots, whether off the tee or for approaches. With a speed rating of 5, a glide rating of 5, a turn rating of 0, and a fade rating of 1, this disc guarantees consistency and precision in every throw. Notably, the Torpedo's design and flight characteristics may remind you of the renowned Discraft Buzzz, but with potential enhancements. Boasting a similar look and flight pattern, the Remix Torpedo offers disc golfers a familiar feel coupled with the possibility of improved performance. Its reliable flight stability and versatility make it a go-to choice for players seeking optimal control and distance. With Remix Disc Golf's exceptional craftsmanship, the Torpedo delivers on both form and function, making it a top contender on any disc golf course.
In conclusion, Remix Discs are basically too good to be true. The Eldritch and Torpedo molds both exemplify the exceptional quality and performance that Remix Disc Golf offers. These discs go beyond their affordable price tag of $11.95 on Amazon.com, providing incredible value for the level of craftsmanship and performance they deliver. Whether you're seeking a phenomenal neutral putter like the Eldritch or a versatile midrange like the Torpedo, both discs exceed expectations in terms of their flight characteristics, durability, and design. With Remix Discs, you're not only getting an outstanding deal but also gaining access to ultra-quality disc golf plastic that rivals even higher-priced options. Don't miss the opportunity to elevate your disc golf game and experience the excellence that Remix Discs bring to the course.