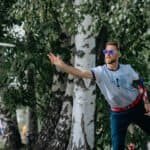 | | |
| --- | --- |
| Ht/Wt: | 6'3''/ |
| Age: | 29 |
| Other: | Sockibomb |
Player Bio
Ricky Wysocki, also known as "Socki-Bomb," is a renowned disc golfer hailing from Scottsdale, Arizona. With a remarkable career spanning over 401 events, he has achieved an impressive 128 career wins and earned over $736,884.76 in prize money. Ricky's journey began in Medina, Ohio, near the Roscoe Ewing Disc Golf Course, where his family's support played a pivotal role in his development.
Notably, he turned professional in 2010 and has since become a dominant force in the sport. Ricky's consistency and resilience are evident in his meteoric rise, which saw him win both the Rookie of the Year and Male Player of the Year awards from the Professional Disc Golf Association (PDGA) in 2011 and 2012, respectively.
His fierce rivalry with Paul McBeth, including memorable showdowns and victories, has left an indelible mark on disc golf history. In 2022, Ricky secured a groundbreaking sponsorship deal with Dynamic Discs worth $4 million, with the potential for increased earnings based on sales. His unique playing style, characterized by exceptional scrambling skills and his signature 'Raptor Legs,' has made him a fan favorite. Ricky's career exemplifies dedication, talent, and resilience, and his impact on the sport is undeniable, solidified by his two-time World Champion status. With his recent championship win, Ricky continues to inspire and contribute to the growth of disc golf.