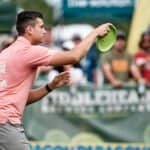 Player Bio
Cole Redalen, is a budding professional disc golfer from Hillsboro, Oregon. As of October 10, 2023, he boasts a rating of 1039. Despite being only in his second year on the professional tour, Redalen has already made his mark by participating in 148 disc golf events. He has achieved victory in 28 of these tournaments and accumulated career earnings of $76,402.00. His rapid ascent is further highlighted by his US Tour Rank of #15.
Cole's disc golf journey began at a clinic conducted by renowned players Zoe Andyke and Dustin Keagan for Intel, where his father was employed. This clinic was a turning point, sparking an earnest passion for the game. His homeschooling environment proved advantageous, allowing him to allocate considerable time to practice and refine his craft.
His natural talent and dedication shone through at the 2020 Kitsap Classic where he secured a remarkable third position. Further testament to his skills came with a commendable fourth-place finish in the long-drive competition at the previous year's PDGA World Championships.
In 2023, the young athlete achieved a significant milestone. His win at the 2023 Ledgestone Insurance Open, where he pocketed $12,500, not only marked his debut Elite Series victory but also showcased his readiness to hold his own against seasoned competitors.
A hallmark of Redalen's playstyle is his keen emphasis on maintaining a flawless form. He draws inspiration from disc golf legends like Paul McBeth, Drew Gibson, and Scott Withers and stresses the importance of both mental agility and physical prowess. Off the course, he ensures his peak performance through disciplined nutrition and support from Oregon Sports and Family Chiropractic.
With his career just taking off, Cole Redalen's passion, determination, and promise hint at an exciting future in disc golf. For those inspired by his journey, shop Cole Redalen discs here.